To all of you whose participation brought about a smile, a basket or a teaching point, and who couldn't fit the limited design spaces. You know who you are.
In a vast sea of great athletes and cool characters that passed through the camp, and there were many, you stood out, whether with sports talent, smarts and jokes or just by being a good friend. You are the ones we talk behind your backs as being cool, how you understand the game, as true friends and good company. We call you Buca, Miki, Nijaz, Anel, Zdravko, Timče, Nina, Milly, Živa, Arijan, Mirjana, Jovana, Bruno, Šejn, Beni, Andrija, Nikola, Conrad, Neša, Ćera, Sava, Ivan, Katarina, Rogo, Balša, Džudo x2 and many other names which fortunately I can't remember now.
It doesn't really matter, it is more important to be at the camp than in the album. Just ask me.
What time it is? PLAY time!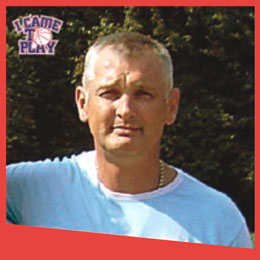 Žarko Paspalj
GOAT. His basketball greatness, personal value system and human qualities inspired this project.
Vlade Divac
Mr. Basketball of former Yugoslavia.
Marina Maljković
A synonym for women's basketball in the region.
Raša Nesterović
His successful basketball track record brings our region together. Our friend and the perfect ambassador of our program. NBA champ.
Slobodan Soro
Brazilian goalkeeper. Not a soccer player. Our friend, the Olympian, water polo World and European champion, many times over.
Charles Webel
The professor. Poor man's Woody Allen. Yoda of the Sky Hook and a vivid basketball fan. Lectured at our camp, but also at the most renowned universities of the world: Harvard, Berkley and Heidelberg - just to name the few.
Milivoje Jovčić
For most, the best basketball ref in the region. Olympics, World championship finals, you name it - he's done it! For us, a great friend, lecturer, student of the game - and most importantly, a person who lives in line with our values.
Zvonko Nikolić
Inspiration and motivation.
Iva Ilić
Modest girl from Koprivnica. Stands out with her great basketball talent and hard work. Currently a student athlete at the Liberty University in the US.
Slaviša Raković Cile
Human tsunami. Dedicated educator, and then some. His arrival always changes the camp dynamic. In past lives he was either a camp warden, or he ran a high security prison. Great friend. Mom calls him Cile.
Antonio Vranković
Great talent. Currently a student athlete at one of the most prestigious basketball programs in the world, Duke University. Member of the Croatian national team. Son of a former LA clipper Stojko Vranković.
Marica Gajić
Used to be a shy girl from Bijeljina. Today, a loving person and a great basketball player. National team member of Bosnia and Herzegovina. WNBA draftee. Currently a pro in Turkey and a motivational speaker at camp.
Tamara Jakšić
Tamara Jakšić from Kosovska Mitrovica. Attended the camp for a couple of years, today a successful math student in Belgrade. Top tier person who always lifts up the spirits of those around her.
Miloš Dupalo
Miloš Dupalo. He forgot more basketball than some will ever learn. "Old head" of the camp who gets no breaks from us all. Knows a lot, talks a little. Drives a Golf. Rocks.
Lefterija Temelkova
Macedonian dynamic mix of hard work, discipline, great energy and a true smile. Currently lives in Germany where she continues to play basketball. Electrical engineering graduate.
Bogdan i Srki
Blues brothers Radosavljević. Always ready for fun, pranks and a song. What an incredible amount of good and positive energy in two small packages! Sideways jokers.
Strahinja Zdravković
Silent killer from Bujanovac. Gets better by playing 3x3 at camp after practices. People say he piggy backs on good teammates. Future Milan Mačvan, only handsome.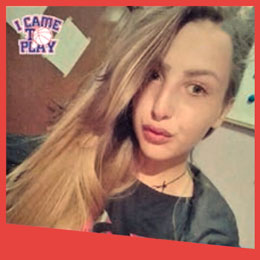 Olja Beader
Excellent and fun person always ready for a friendly joke. Team player with a smile on her face and a successful law student.
Nataša Kajtaz
Silent, hardworking and committed. A senior national team member of Bosnia and Hercegovina. A law student. Closest thing to Saša Danilović world has ever seen.
Vedran Vlahović
Edgy writer from Križevci. One of the first people who recognized the values and the vision of what we do, and transcribed it into a news article that set the internet on fire. DJ Vector sounds cheesy.
Darko i Žarko
Basketball terriers from Čačak. These clones devour basketball. Coaching revelations of a decade. People say that their Mom can tell them apart, we still don't belive that.
Dule Ilić & Awaks's
Our workshop leaders and DJ's. They burn CD's with lighting speed, drive some old Peugeot, spread positive energy and sometimes wonder on to the basketball courts. They're not the only ones.
Marija Bjelopetrović
Like a horror movie character, Marija lurks in the shadows! She's in here so people don't get the idea we do this all by ourselves.
Tijana Hrkalović
Friend. Waiting for her kid to attend the camp. We'll be ready.
Ryan Rowlands
Captain America and a true friend. A real athlete who recognizes the progressive role of sport in society. Unfortunately he's still to win a game at camp. His son, Kai is a Partizan fan, much respect!
Erika'h Kuenne
Bundle of joy. One of the best energies ever encountered, not by us, by anybody. She may be from another planet, but she fits our world perfectly.
Marjan "Max Pain" Jovanović
Serbian howitzer from Bujanovac. Person who's heart instantly melts away anything and anybody. Best gamer among the coaches and best coach among gamers. Not the best gamer at camp. He only loves basketball more than video games and horror movies.
Michael Kirby
Stayed on the path. He recognized the regional potential of our program when it comes to reconciliation, teamwork and personal development. Wore a hat.
William Henderson
First time Bill visited our camp in a suit. He never made that mistake again. Now he's one of us, and a really cool guy. This is the only known photo of him.
Jennifer Brush
One of our first ambassadors. Thanks!
Mary Warlick
True friend and a seriously cool character. One of the best ambassadors Serbia has ever had. A great friend of Serbia and of our program. Her kids brought their friends to EXIT, couple of times.
Suzan Meyer Delja
Serbia's daughter in law. Unlike Adriana Lima, she worked as hard as us for this program to become what it is today. THANKS! To this day, her date denies falling asleep during Jazz festival in Novi Sad.
Dušan Domović Bulut
Some say he's the best street-ball player in the world. A World and soon to be European champ. Future Olympian. Our longtime friend. We enjoy following his career, and looking forward to his future successes. True star in the making.
Karlo Žganec
Already four times senior champion of Croatia and winner of World and European honors with junior selections. Serious competitor, although looser of some 3x3 games at camp. Euroleague. We're waiting for the next NBA draft.
Benyo
Benjamin Markulak. A Slavonian hound. Inventory at the position of sports director. Used to be a basketball prospect. Today, a PE student in Zagreb, organizer of the student basketball league and a collegiate champion of croatia in streetball. Has pictures with Sabonis and Mureshan.
Hajduk
Stefan Hajduković, fanatical energy for basketball. Used to be a good basketball player, now a very successful coach in China. Fortunately, even when he's not with us in the summer, his enthusiasm and energy remain. Used to shout at the refs. Well, he doesn't do that anymore.
Daca
Danijela Popović, icebreaker from Banja Luka. Fun and bright, she always manages to cheer up everybody around her, whether experienced campers or first timers. Easy to love and one you can call a true friend. A great basketball player, a Bosnian champion. Future teacher.
Marko Savić
Our strength and conditioning coach and philharmonic conductor when needed. Somehow he makes the hard work look easy. This all smiles guy from Užice is on a temporary work permit in Qatar. Ideal son in law. PE student, good athlete, almost a solid boxer.
Marko Nikolić
Opposite to popular belief, generous guy from Pirot with a big heart. A fighter on the court. Above all, great person and a true friend. After too many years at camp as a player and later assistant coach, now his younger brother Lazar is follwing in his footsteps. Traffic engineering graduate.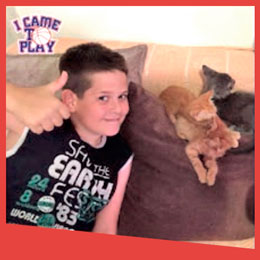 Milkica & Vojvodić's
Damjan Vojvodić. Camp name: Milka. Kindest guy in the world and a face that should be on our logo. The boy who makes everybody's day. A bright kid, whose smile brings joy to everybody at the camp. Just like his older brothers, Nikola and Andrija did. Revenged his grandfather against the U.S. Embassy team.
Nemanja Danilović
Bojan Radun
Our true friend and support from the beginning. There should be more Russians like him.
Bojan Sekulić
He made Klisa a better part of Novi Sad. Ambassador of our values and my brother since Lada Samara days. For a very lazy person, suprisingly capable.
Željko Lukajić
Miodrag Vesković
With us from the begging. Miljan's dad. Gordana's husband. A philosopher coach.
Dan Tana
Football player. Filmmaker. Camper. He owns a pub, so he fits right in.
Stefan Stojačić
Poster boy of our value system. When he's not making robots, he plays basketball, well. Defeated Steph Curry in the finals. Basketball player. Lawyer. Engineer.
Bojana Nikolić
Basketball player form Paraćin. What more can one ask for? Ok, she is also a model, and an award winning economist.
Ana i Mile
And Samonikli. Coming soon to a theater near you.